Tagged with " beach"
Happy new year! Hello 2011!
I'm back in Manila and slowly adjusting to the thought that I'll be back at work on Monday. My December seems to be mostly vacation, what with that eye infection and the holidays. Still, I think I've accomplished much, and I feel rather good about it, but that's no reason to rest on my laurels. Kailangan pa ding kumayod.
Last night, my family (minus Nunik and Lolo) went to the beach to watch the fireworks display that was going to be launched from Potipot Island. We stayed at my great-uncle's place and waited until midnight. Unfortunately, we miscalculated the distance and instead of seeing a truly awesome fireworks display, it looked rather small. The good part of it is that it wasn't the only fireworks display that we saw, but even those of the neighbors and in Sta. Cruz town. It was also fairly quiet due to the distance, and the fact that most people didn't bother to buy their own firecrackers but opted to watch the display. By the time we got back home, there were only a few stragglers setting off some sparklers but most of them were already settling down in their homes.
For me, the best part of the new year was being with my family. Lolo greeted us when we got back, and I missed Nunik, who was in Manila. Also, the night sky was a far more impressive display than any fireworks showcase. There were so many stars out, it was like being in a planetarium, only… well, it was the real thing. I even saw a shooting star. I truly wished I had a much better camera that could capture the awesome view. It was perfect night for a bonfire (which some folks did) and hanging out with friends and loved ones, beer and food optional.
To cap off this post, let me share with you a quote from Neil Gaiman: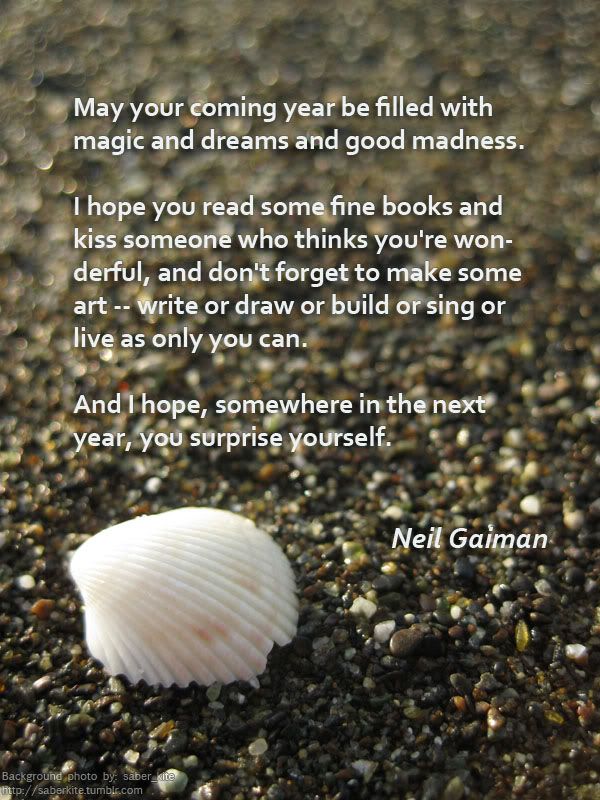 A blessed and totally awesome 2011 to all of you.
A week after my Zambales trip with my friends, I was back. This time, I was with my family for a long overdue trip.
Very early Saturday morning, Todel, Tarose, Miel & I left Manila for the five hour trip to Zambales. We had breakfast at Delifrance along NLEX, and had a pretty much uneventful ride all throughout.
Historical stopover
We passed by the Magsaysay ancestral home and decided it would be a good idea to stop by for a look. I've been passing this place for years and this is the first time I've ever been inside.
It wasn't much different from the old house we have in our town. It had many similar designs, like the lower part of windows that open, or the very spacious second floor. The house was turned over by the Magsaysay family to the government so it can be preserved. I don't quite like the mint green color though, but the house is full of interesting things.
Candelaria again
Upon arriving in Cande, we stopped by at home to say hello to my grandpa, and take a much needed toilet break. I grabbed some swimwear and we went to the beach where my parents and sister were waiting for us with lunch. Needless to say, we all dived in with much gusto.
After an hour or so of chatting and rest, we went to the market to buy booze and ingredients for our dinner. We hung around by this man who was selling homemade fishballs that tasted really great.

Back at the beach house, we saw that the videoke machine my parents rented had arrived. So while waiting for a good time to swim (late afternoon again, so we won't get sunburned too much), we sang our hearts out. I was the first (and for a long time, the only) one to get a score of 100.
We went for a swim just as the sun was going down. The water was calm and warm, which was very relaxing. Later we took a walk to Lolo Vering's place (where we stayed in my last entry) and got to talk to one of our uncles. Making our way back, we ran into friends of my parents and another aunt. After a few minutes of talking, we headed back inside for dinner.
Miel's parents and her brother Dan arrived just as we were getting ready to eat. We had our dinner while listening to songs courtesy of the videoke machine. Afterwards, we brought out the Absolut Vodka, Sprite and some pulutan. Unfortunately, all of us couldn't make it past midnight so after several rounds of drinking and music, we all went to bed.
Day II: Potipot Island again
The sky was already bright when I woke up and to my surprise, Otki, Miel, Tita Ruth and Tito Vic were already up. I went out and found them taking pictures of the sunrise. This was the first time in a while that I've seen sunrise from the beach, because most of the time, trees were blocking the way. We were lucky to have an obstructed view while the sun rose from behind the mountains.
After breakfast, we went our own ways. Tita Ruth wanted to take pictures, while Miel, Dan, Otki, Tita Rose and I wanted to go to Potipot. So Todel took us to the same place were we got the boat the last time. The water was a bit more rocky this time, and I was a lot more nervous than before. We arrived at the island just fine though, and after scouting for a spot, we dove right in.
There were still a lot of people, but slightly less than last weekend's. We had a nice time just enjoying the water, taking jump shots and talking about responsible tourism. Later, we got up to find another spot and eventually we arrived at the driftwood again. Thankfully, there weren't much people so we were able to take several shots. The water was low too, and we were able to get to the rocks just a little off the shore. Wish I had my aqua shoes though.
As we made our way back, we couldn't help but pick up trash along the way. There's really quite a lot of it, and we managed to gather about three plastic bags worth. We even picked up trash that was right in front of these people talking. This led to a discussion again of suggestions of how responsible tourism can be implemented.
Our trip back was really rocky. The waves were higher, and I was truly, truly scared (even if I had a life vest). When we got back on dry land I could just kiss ground. We met with Tita Ruth, who had halo-halo with Tito Vic and Tito Del at Dawal Beach Resort. We headed back to the beach house for lunch, then I headed home to fix my things.
Back to Manila
Before leaving for Manila, everyone passed by the house to say hello to Lolo. It was around 3PM when we left. It was a rather quiet trip, but somewhere in Castillejos, we got caught in traffic, thanks to a Santacruzan. Because it really took a while, Miel and I got off and took some pictures. It let ToDel get some sleep too, so it was all good.
We met up with Tita Ruth at SBMA, where we had dinner at Xtremely Xpresso. It was as good as I remembered. Once again, we had the giant burger (which was already a meal in itself) and their delicious pizza. We took home the leftovers and after one last stop at the Petron station to refuel, we continued our way to Manila.
It was nealy 10 PM when we arrived, tired but still on a high. It was really great to have been able to hang out with my family, and I hope we could do it again soon.
Regular readers of my blog will notice that I often talk about my dad's hometown, Candelaria, Zambales. Over the years, I've been inviting people over and so far only my two best friends have taken me up on that. Ironically, a few other people I invited went to visit on their own because they wanted to go to Potipot Island.
Anyway, fast forward to last weekend. I had invited some friends for a visit and we thankfully were able to push through. After a few delays, we got on the midnight trip to Candelaria.
Thus begins my rant.
In my past night trips, the lights were often turned down and music was kept to a minimum. The bus company also tries to limit extra passengers so, I presume, the trip would be quiet.
Well, that wasn't the case in this trip. There were more than ten extra passengers, all who yapped until their stop. We couldn't sleep at all.
I hope that people would realize that as much as it is their right to have fun while on vacation, they should also respect the other people who are on vacation as well, whether or not they know them. Oh, there's a part two of this rant.
Anyway, we arrived home, got a few hours of shuteye then headed to the beach. We stayed at my great-uncle's place for lunch, then headed for a swim later in the afternoon. Plans of staying overnight was ditched in favor or sleeping in actual beds, and we decided to just wake up early to head to Potipot the next day.
When I was younger, Potipot Island wasn't really given much attention. It was known as a resting spot for fishermen who, instead of going back to the mainland, would stay in the island until their day is done. Over the years, it's been basically ignored by the locals, including my own family, for personal reasons. Ownership has changed hands so many times, it's quite hard to trace back the original owners.
In the past few years, Potipot has become a popular vacation spot for anyone who wants to experience white sand beaches without having to compete with the crowds in Boracay or Galera. It's also known for those who want to "rough it" without having to travel long distances (from the mainland it's only a five minute boat ride).
During my first visit to Potipot several years ago, there were about less than ten people on the entire island: me, my sister, my parents, my friends Den & Ching, our banca man and one or two fishermen. We were able to go around the island in thirty minutes. Silly me forgot to bring extra film so I wasn't able to take pictures.
My parents took us to Potipot Gateway, where we initially thought of getting a boat, but it was way too expensive for our budget. The place is nice though, much better than when I first saw it years ago. We decided to go to Dawal, where we could rent boats at a more reasonable rate.
In the end, we got a friend of my mom to take us to the island. We had fun swimming and heckling people, especially those who were hogging the big driftwood. We also aired our frustration at how people were so inconsiderate to just leave their trash on the beach. At first glance you wouldn't see it, but at a closer look you'll see bits and pieces like cigarette butts, chips and candy wrappers etc. It was so maddening that I've got half a mind to tell the governor to close the island to visitors. Haha, swapang.
Be responsible tourists people. Being there is a privilege. We should be thankful that the island's owners are letting us use it for our enjoyment.
It was around lunch when we headed back and I was so glad to back on terra firma. We cleaned up, had some lunch and prepared ourselves for our trip back to Manila. The bus was full, but after a few minutes we got seats. Slept for most of the trip, then when I woke up, had a chatfest with Lorna.
Thanks for the great weekend girls! I hope you enjoyed it!
Holy Week has always been a big deal for me growing up. Every year, it signaled the start of vacation. It was when tons of relatives would make the trip home from wherever they are and spend a week or two here. My cousins, both first and second degree ones, would be here and we'd spend the entire day playing around the house or be at the beach. At the end of vacation, we'd be all brown and complaining of sunburn, but we all truly didn't care anyway.
This year, not a lot of relatives came over. I guess real life kept them all busy, and they all had other places to go. It would be nice to get everyone together, see how they've changed and meet the new additions to the family.
Summer, specifically Holy Week, is also the time for family reunions. We've hosted quite a few in the past, before it was here at home, then later it was at Lolo Vering's beach. Lola Lilay used to be the keeper of the registry and family tree, and she knew a lot about her ancestors, who married who and so on. This year, Otki and I manned the registration booth. It was interesting to see relatives arrive, people who I never met. It's also funny when someone you know arrives and when you see them you'd go "Pinsan pala kita!"
Easter Sunday
I woke up around 3:30 AM to wait for the procession that'll be passing by our house for the Salubong. It is a pre-dawn re-enactment of Jesus and his mother Mary's meeting after he was resurrected from the dead. Two groups of people would leave the Church: one for Jesus, one for Mary, and they'd go around the town then head to the plaza, where an angel would descend from heaven (in this case, a high platform) and take the veil of mourning off Mary.
My grandma used to participate in this, and I thought it would be nice to do it again. So I woke up early and waited. Turns out I woke up too early (about an hour ahead of their schedule). Later, as I was drifting off to sleep again, I heard some music playing. I ran outside and waited.
What I remember from my childhood is that the musicians usually come a few minutes before the Mary group, which is the ones the females join. The males join Jesus. However, for some reason the band is with Jesus, which is the one I ended up joining because the Mary group went the other direction and didn't pass by in front of our house.
It was nice walking around town at 4:30 in the morning. It was cold, and quiet (if you don't count the noise we made). Many people were also awake, and had candles in their homes as a vigil for Jesus. It was probably the same for the Mary route.
We met at the town plaza, where the priest and the "angels" (little girls in white dresses) were waiting. Once the statues were in place, the "angel" comes down and lifts the veil. Then we sing "Hallelujah" and go to the church for the mass.
It's very nice to see people still doing this tradition. I'm glad I got to take a few pictures of it.
P.S. Eating nothing but fish and veggies for a week is good in not making me feel bloated.